Production Certificates
As a top European company in our industry, it is sine qua non to have every aspect of our production process certified according to the strict European and international norms. Quality & respect to the environment, as well as health & safety at work, are fundamental priorities in ALUMIL Group.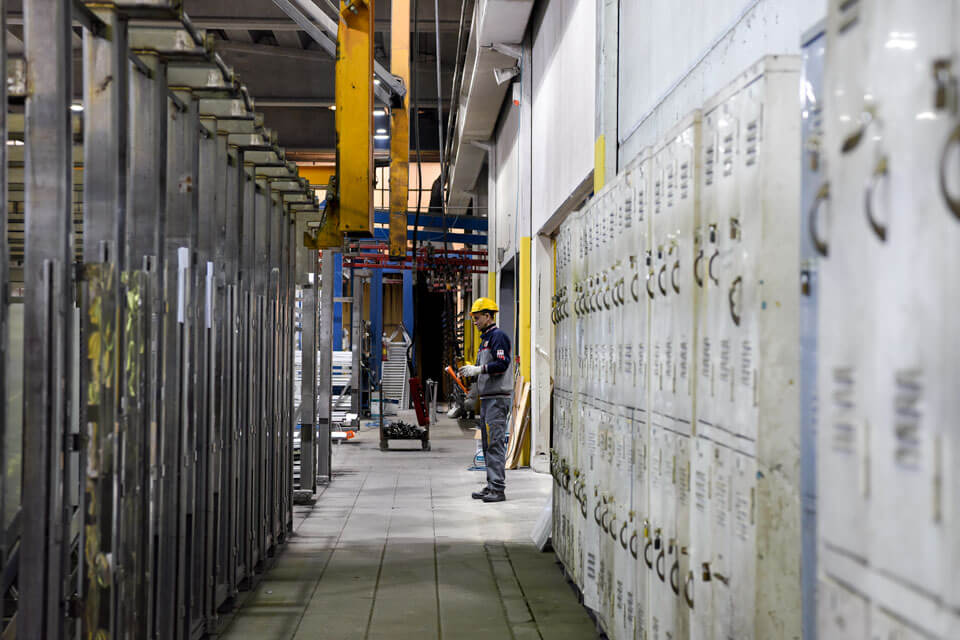 QUALITY MANAGEMENT SYSTEM
According to the international standard EN ISO 9001 by TÜV NORD CERT. By implementing an advanced Quality Management System we ensure the high quality of our products and services in order to have satisfied and dedicated customers. Specifically, ALUMIL applies its Quality Management System regarding the design, manufacture and distribution of architectural aluminium profiles and the purchase, production and distribution of aluminium accessories.
Energy Management System
According to the international standard ELOT ISO 50001:2011 by TÜV HELLAS (TÜV NORD) S.A. It is an international standard of sustainable energy use, that helps to reduce consumption, minimizes carbon footprint and cuts the costs. More specifically, we apply the Energy Management System in line with the above standard for the following scope: Design and Development of Architectural Aluminium Systems & Production and Sales of Mill Finished and Coated Aluminium Profiles, Thermal Broken or Non Thermal Broken Profiles and relevant Accessories.
FPC - FACTORY PRODUCTION CONTROL
According to the international standard EN ISO 15088 by TÜV NORD CERT. ALUMIL applies production controls according to the international standard EN ISO 15088, so as to assure that all of its quality controls are as reliable as possible. At the end of each production stage, a sample is thoroughly controlled regarding various quality attributes (e.g. surface, geometry).
ENVIRONMENTAL MANAGEMENT SYSTEM
According to the international EN ISO 14001:2015 by TÜV NORD CERT. The certificate ensures the harmonious coexistence of ALUMIL's activities with the natural environment. ALUMIL has established and applied from 2002 a certified Environmental Management System in accordance to the international standard EN ISO 14001, regarding the extrusion of aluminium, powder coating, wood imitation surface treatment and the production of thermally insulated profiles.
MANAGEMENT SYSTEM FOR HEALTH AND SAFETY AT WORK
According to the national standard BS OHSAS 18001:2007 by TÜV NORD CERT. The company has been implementing a Certified Occupational Health and Safety System since early 2003, which aims to identify, evaluate, prevent and address occupational hazards and comply with relevant legislation.
QUALICOAT
Powder coating certification for aluminium profiles. At European level, the quality control and certification of powder coated aluminium products is determined by the specifications of the QUALICOAT standard. ALUMIL is certified with the QUALICOAT and SEASIDE CLASS certification marks from 1999, by the Hellenic Aluminium Association, member of the European Aluminium Association.
GSB INTERNATIONAL
Certificate of Quality Coating for aluminium profiles. Since July 2003, ALUMIL's powder coating procedures are certified by the German standard GSB International. The certification body of GSB International is conducting a wider range of controls in comparison to the QUALICOAT standard, thus assuring even further ALUMIL's exceptional powder coating quality.
QUALANOD
Certificate of anodizing quality assurance. ALUMIL's anodizing plant is certified from 2008 by the Hellenic Aluminium Association, member of the European Aluminium Association, according to the certification mark QUALANOD, a European standard which assures high quality of anodized aluminium profiles.
NF Certification - Thermal Insulation Profiles by the French CSTB
Certificate for thermally insulated aluminium profiles. In 2008, the company carried out the conformity of production and quality control regarding thermally insulated aluminium profiles in accordance to the French NF 252 standard of the French Scientific and Technical Center for Building (CSTB). This is a certification of compliance concerning the technical specifications and other production and quality control requirements of intermediate and finished products, as well as the application of polyamides.