ALUMIL in the fight against COVID-19 through high-tech 3D printers
Into this difficult period for the world's population, every citizen and organization is called upon, through their attitudes and behavior, to contribute to the rapid and painless containment of the COVID-19 coronavirus pandemic.
The medical and nursing staff is at the forefront of this battle. Supporting patients suffering from coronavirus infection, as well as examine people with suspected symptoms, is a very difficult and important task, but with a high risk, as it is known that contagion of this virus is very easy, since the human body has not yet developed the necessary antibodies.
ALUMIL, realizing the importance and danger of the effort of the people working in the country's health care units, decided to proceed with the production of protective masks through its 3D printers which are in its facilities.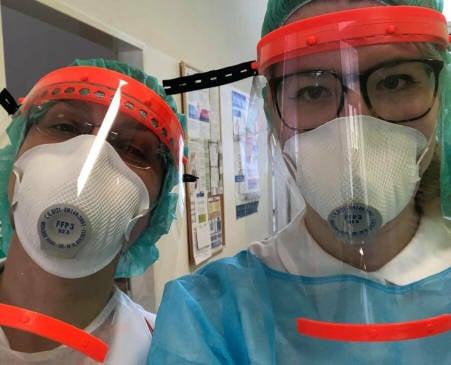 These advanced printers, worth hundreds of thousands of euros, are normally used to design, standardize and test components for aluminium systems. But they can print anything, as long as the designs of each print meet the technical specifications of the printers. Thus, inspired by an action started internationally by people working in the field of 3D printing and in collaboration with 3DHUB Greece, ALUMIL began to produce the skeleton of the special protection masks designed by the renowned 3D printer manufacturer Prusa. In its turn, 3DHUB Greece is responsible for assembling, sterilizing, and dispatching the masks to the Ministry of Health.
The first goal is to send 500 masks to the country's public hospitals and then, depending on the needs, to supply more. Already the first protection masks have been delivered to Alexandroupolis General Hospital in collaboration with the Physics Department of the International University of Greece of Kavala, providing an important safety shield to the medical and nursing staff of the hospital, as the use of masks reduces the possibility of virus contagion through droplets.

Through cooperation, responsibility and respect for the fellow man, this crisis will pass. ALUMIL, as an integral part of society, will strive to tackle the pandemic by all means, primarily by taking measures to protect the health and safety of its employees and actions to support the authorities and people who are at the forefront of this battle.

It should be noted that anyone who wishes to donate for the production of 3D printed health material which is in lack, can contact 3DHUB Greece.