SMARTIA M450: Discover the new generation of sliding and lift & slide systems
Total comfort, maximum construction flexibility, minimal design, high performance. ALUMIL's new entry for sliding and lift & slide systems has arrived, full of benefits and awaits you to discover it.
SMARTIA M450 is a system that meets the demanding requirements of today's buildings, providing modern design and high thermal insulation. Its minimal design – only 25 mm of visible aluminium face width at the interlocking profile for both lift & slide and sliding typologies - distinguishes the system, offering enhanced daylight intake and a seamless connection with the external environment. Furthermore, the system provides maximum functionality and ease of use, significantly upgrading living conditions. At the same time, its track with the invisible water drainage system and the reduced depth, is easy to clean and contributes to high efficiency regarding water tightness.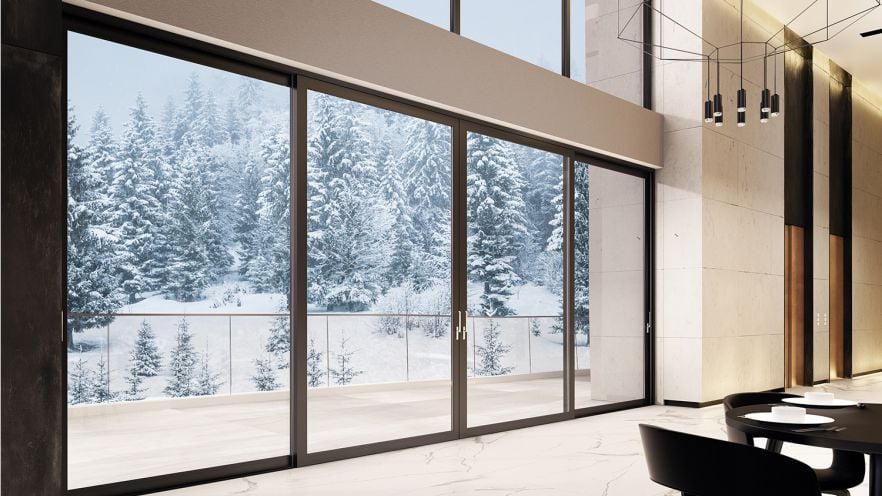 Apart from the advantages regarding functionality and aesthetics, M450 provides high energy savings thanks to its impressive energy efficiency. It is ideal for the construction of "green" buildings, with a thermal transmittance value (Uw) that can reach up to 1,26 W/m2K, always depending on the typology, the glass and the dimensions of the construction. Despite its minimal aesthetics, M450 maintains its high performance and is an exceptional choice for new buildings and replacements, providing ease of use, even in wide window spans.
SMARTIA M450 constitutes an important addition to ALUMIL's product portfolio. It is a solution that combines incomparable design and high quality with performance that ensures thermal comfort and security.