Honorable Mention: Interview with hOP/ar
1) Please tell us a few words about you and what motivated you to participate in the competition of Arxellence 2. Did you ever undertake/design a similar project (CBD) in the past?
a. Tell us a few words about the team that worked on the proposal.
We are a french bureau of Architecture based in Paris, called hOP/ar, established in 2019 by Olivier Perraguin. For this specific competition we teamed-up with Jacques Spiegelstein an architect specialized in wide infrastructures (airports/railways stations/urban planning) working on the metamorphosis of cargos into buildings for 2 years now and with Laurent Letourmy, an architect, artist and landscaper, working for the French National Forests Office and by the way, a very talented watercolor painter.
b. How were you informed about the competition of ArXellence 2?
We discovered it through the National Board of French Architects's blog.
c. Did you ever undertake/design a similar project in the past?

Actually, we've never conceived such a specific program as a CBD but we are used to design urban planning and mixed-use programs.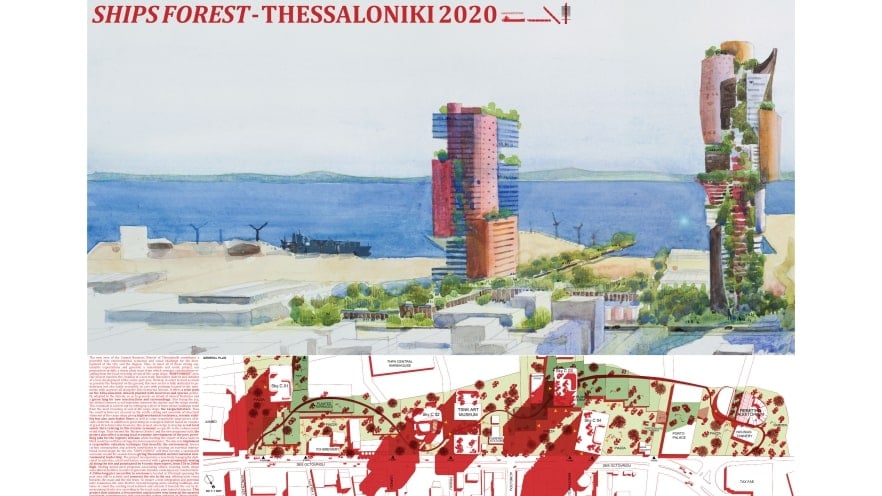 2) Could you give us a description of your proposal? How did you approach the project and what was the main idea of your design?
a. Describe in a few words the structure of the CBD you designed (the main characteristics of your synthesis).
We approached the project through a transversal vision mixing innovation, urbanity, sustainability but also local economy and development. The purpose was to use our concept of Cargochitecture to generate iconic constructions, associated for this specific project, to a new lively topography covered by a wide planted park integrating, harmoniously, new and existing buildings.
b. Describe the main idea of your proposal.
To meet all of the strong sustainable local expectations and generate a remarkable and iconic project, our proposition installs a dense plant mass from which emerge constructions resulting from the local recycling of end-of-life cargos. These true vertical villages host mixed-use programs combining accommodation, hotels, offices, services, equipment and public spaces in order to always allow the surroundings to enjoy sea breezes and sunbeams crossing the site.
c. What difficulties did you face?
The main difficulty was to demonstrate how realistic was our proposal from an architectural, sustainable and technical point of view avoiding to fall into obscure datas and schemes (calculations, seismic tests, structural deformations, dismantling process…).
d. What would you say is the most innovative feature of your proposal?
Definitely, our main concept of changing wastes (end-of-life cargos) into new buildings is a true innovative, environmental friendly and sustainable act. Then, the concept of vertical porous villages, limiting the footprint on the ground in order to dedicate more space to a planted park, is the other highlight of our proposal.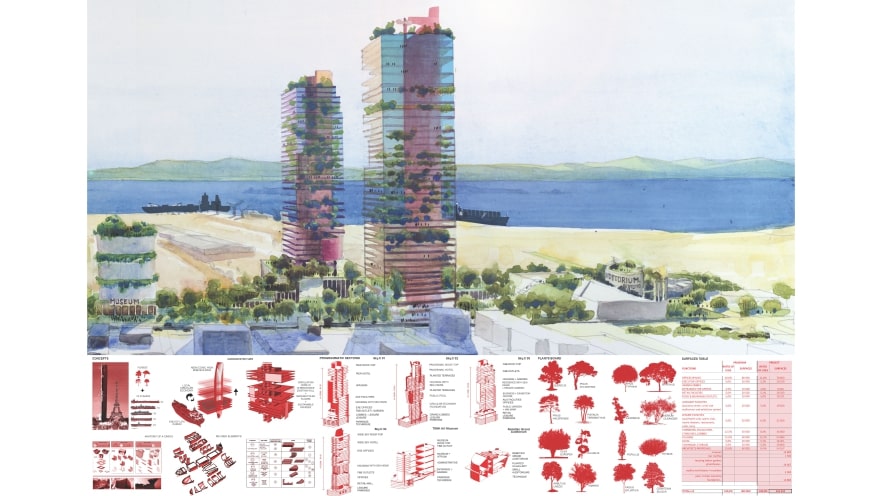 3) What do you think made your idea stand out and why? What are the experiences you gained from the competition of ArXellence 2?

We believe that our concept of Cargochitecture was quite fitting well with the competition's expectations regarding its poetic, iconic but also technical dimensions we put into the design. We think that the jury has been pleasantly surprised and curious by our proposal.
Awarded with an Honorable Mention, we realized that our concept may interest our fellow architects but also the jury and even authorities. That motivates us to keep on developing the concept and its potential applications, worldwide, fostering local development and expertise in a sustainable and low-carbon way, inevitable now, to conceive and build well new constructions.